Details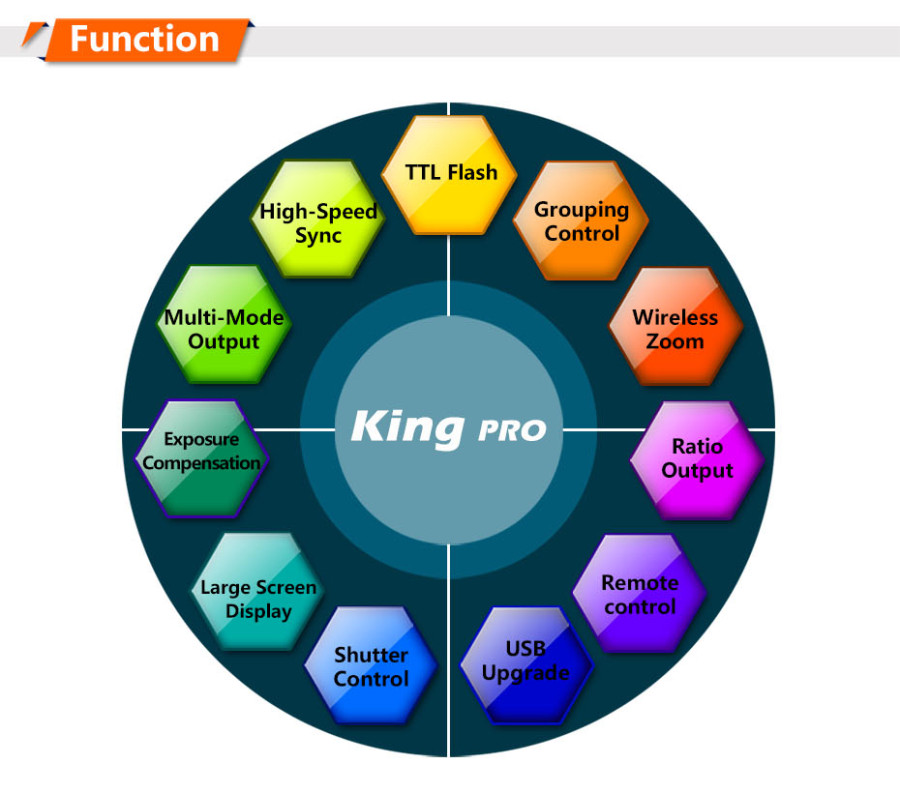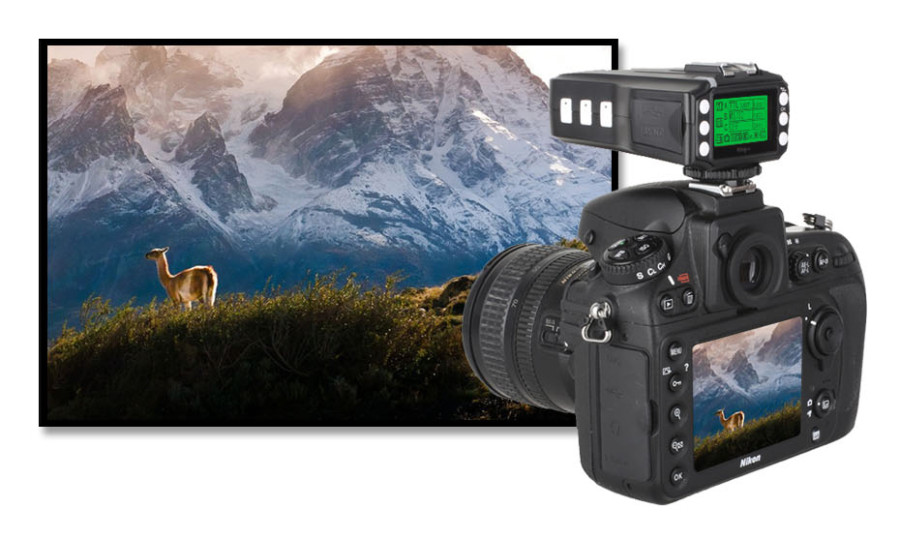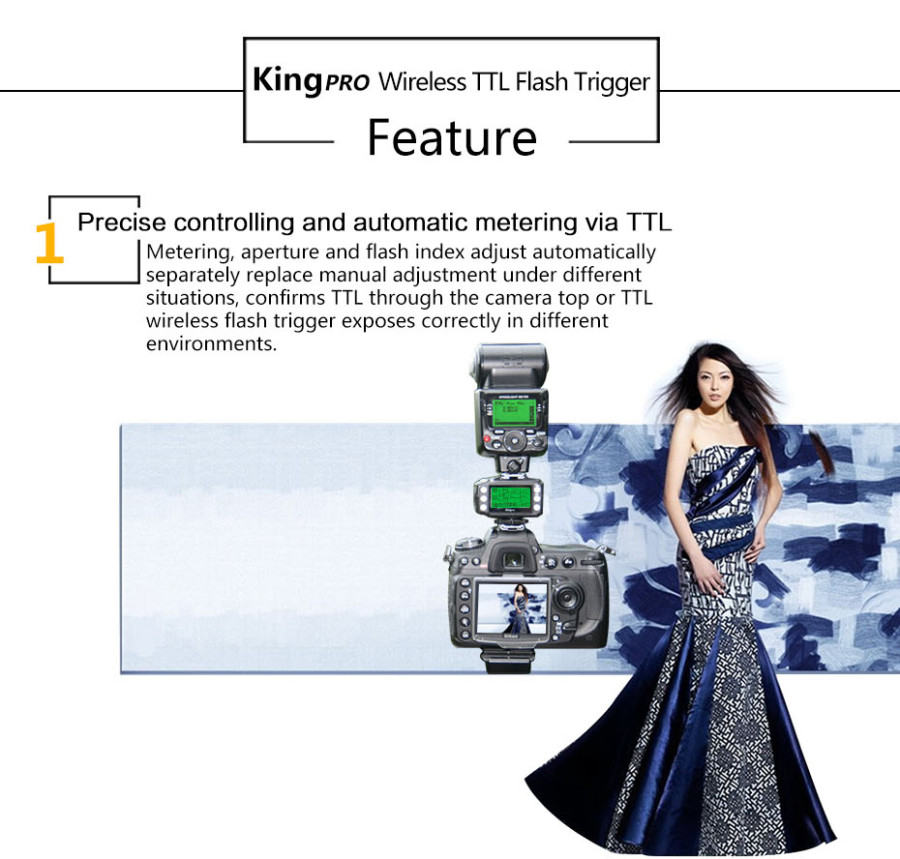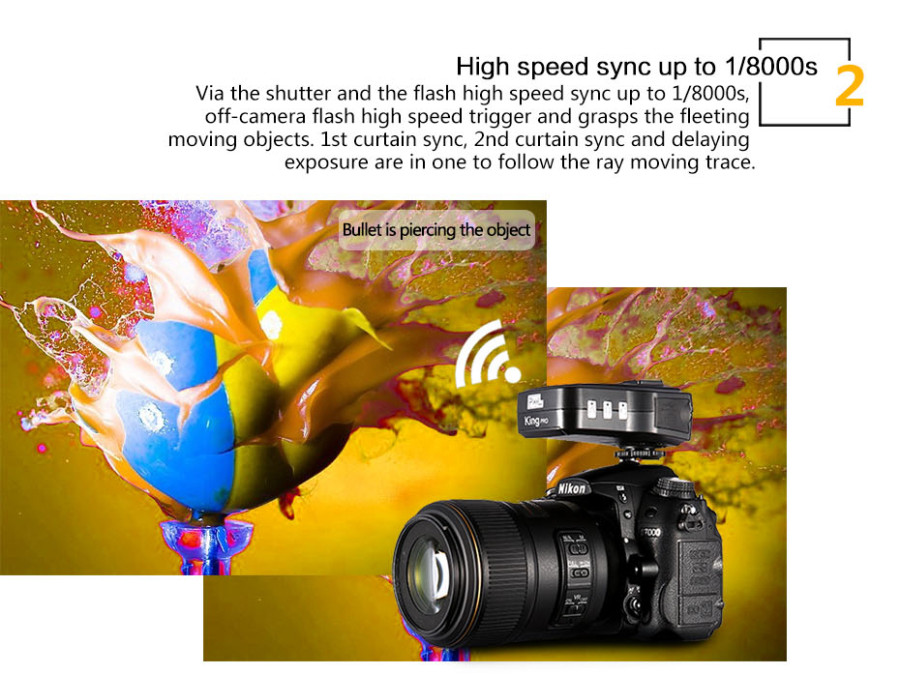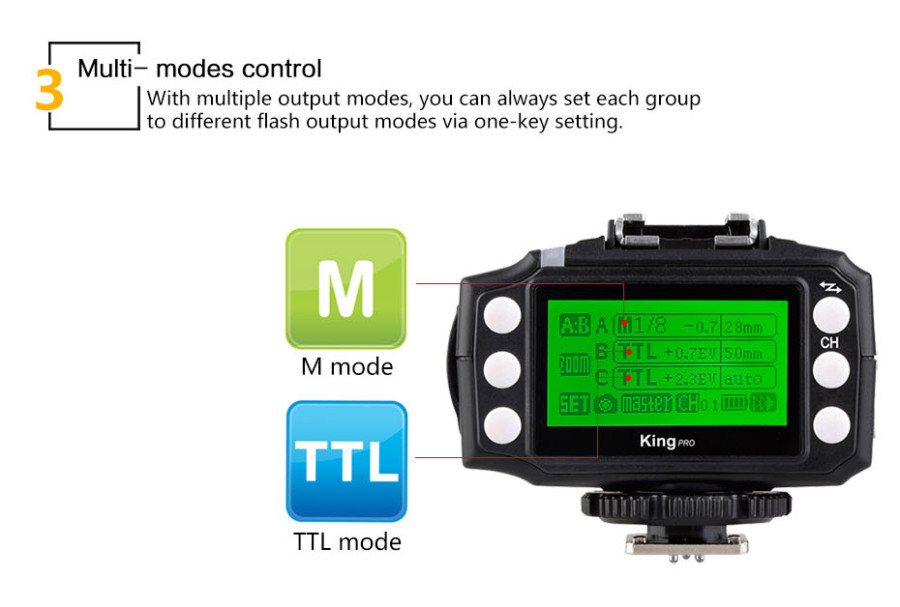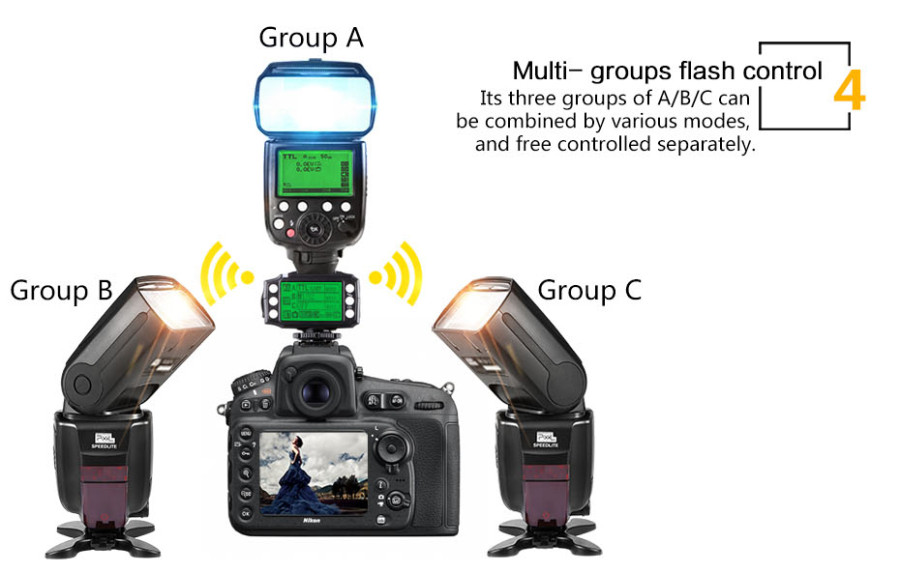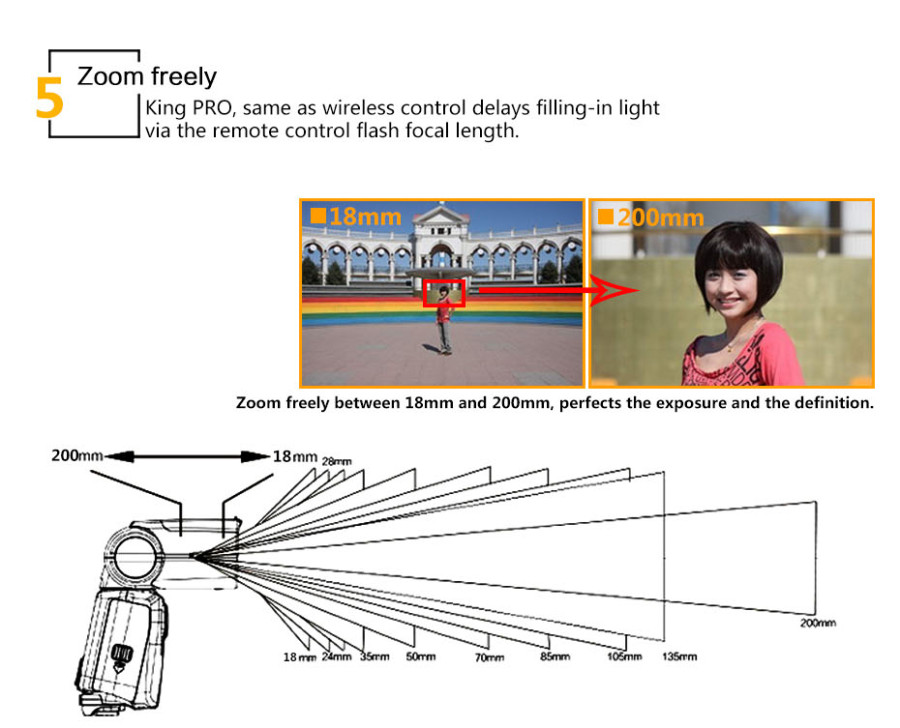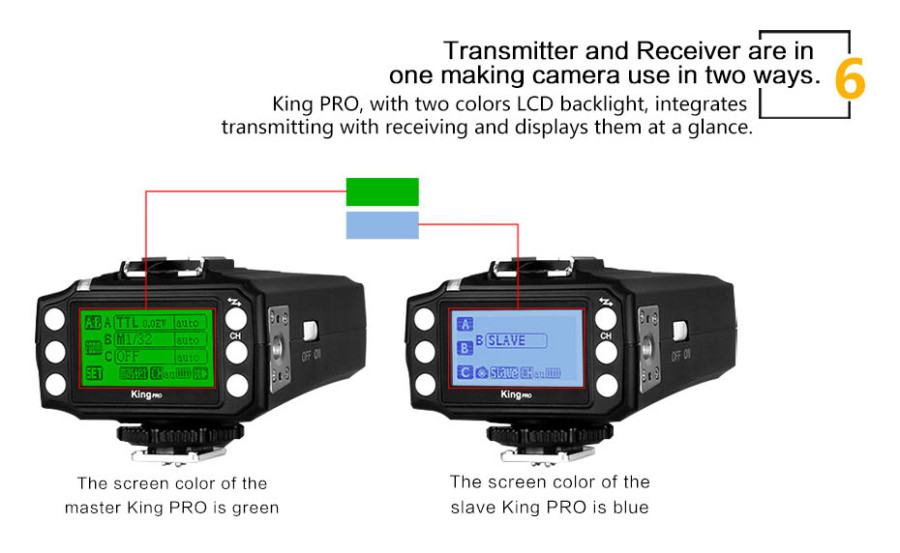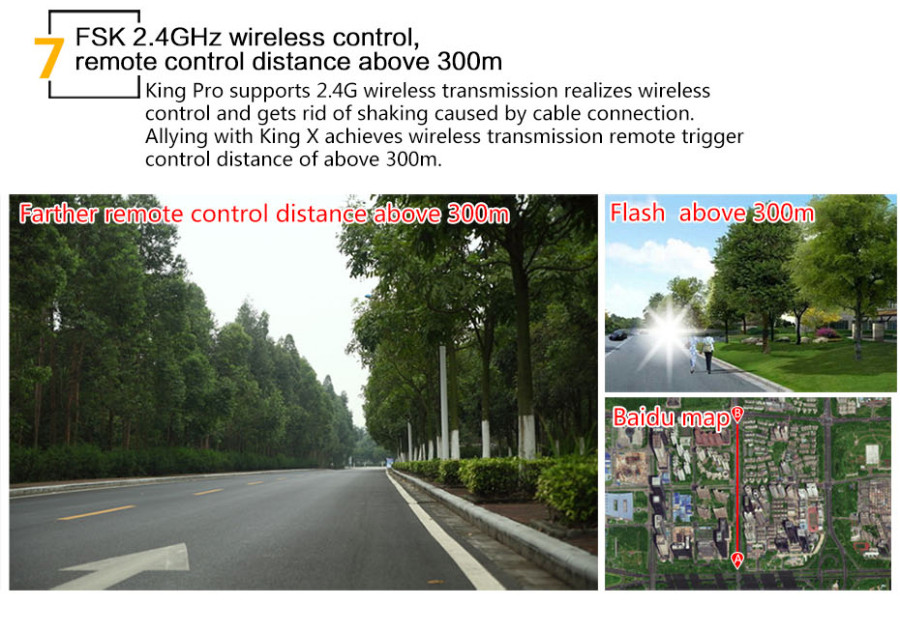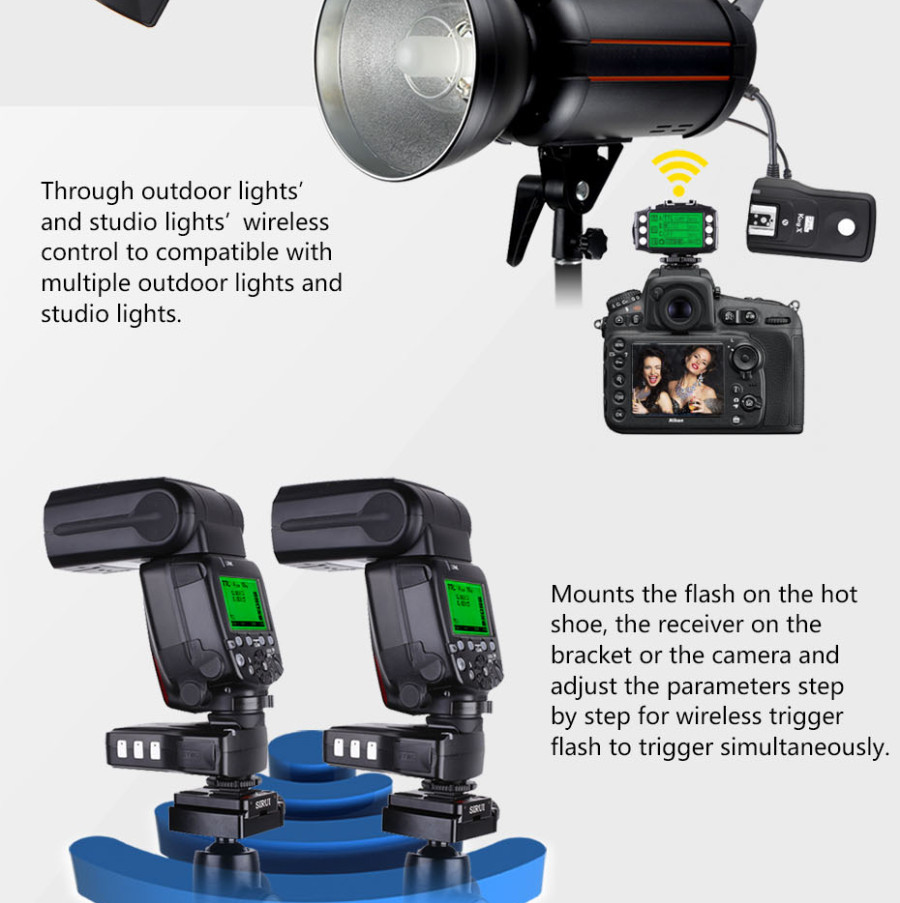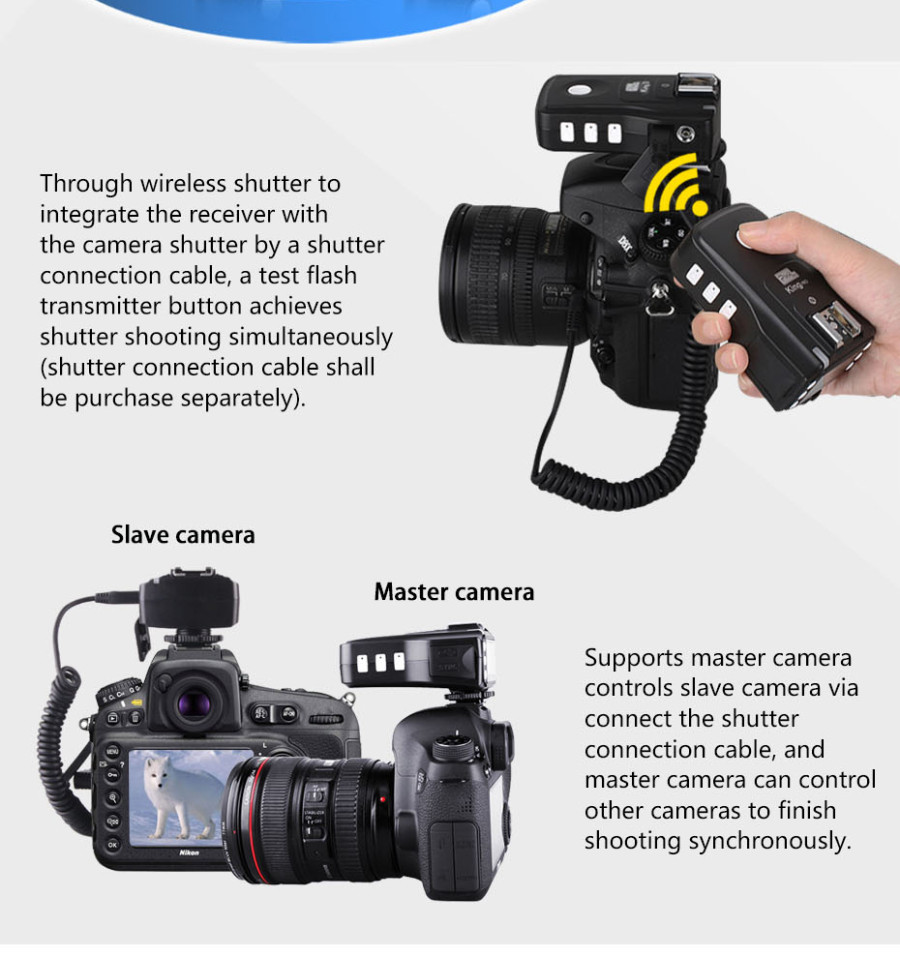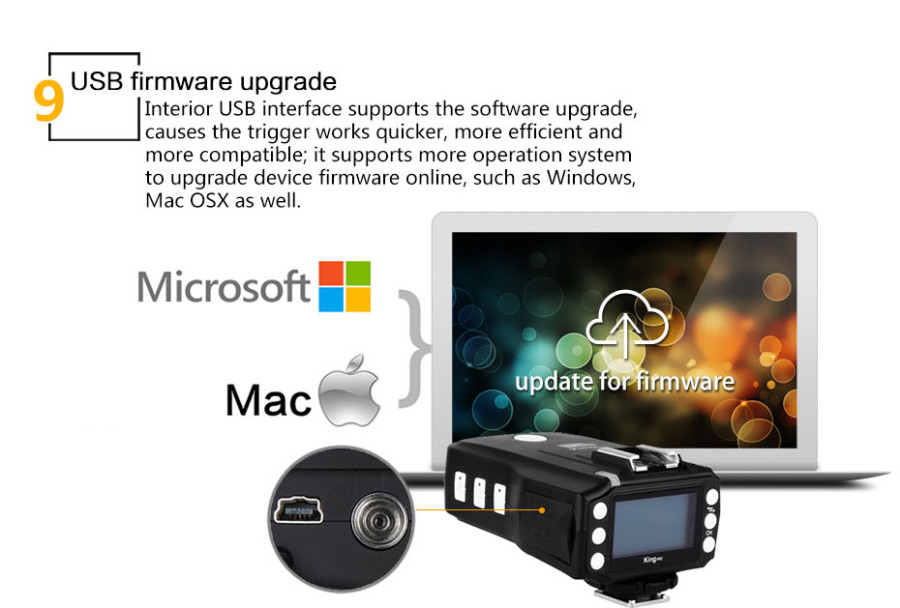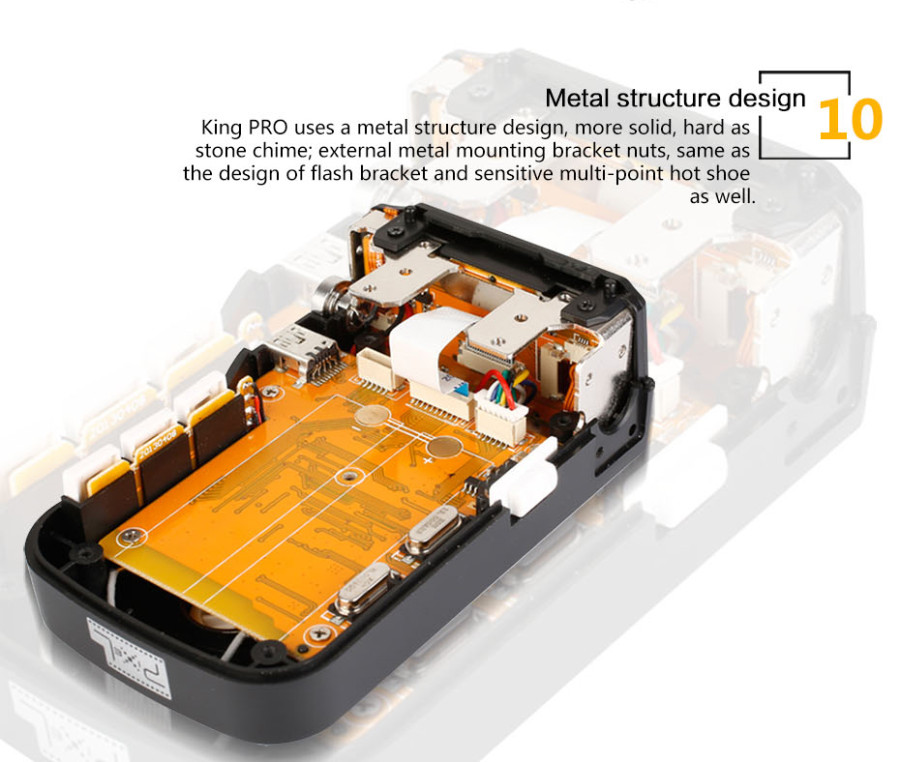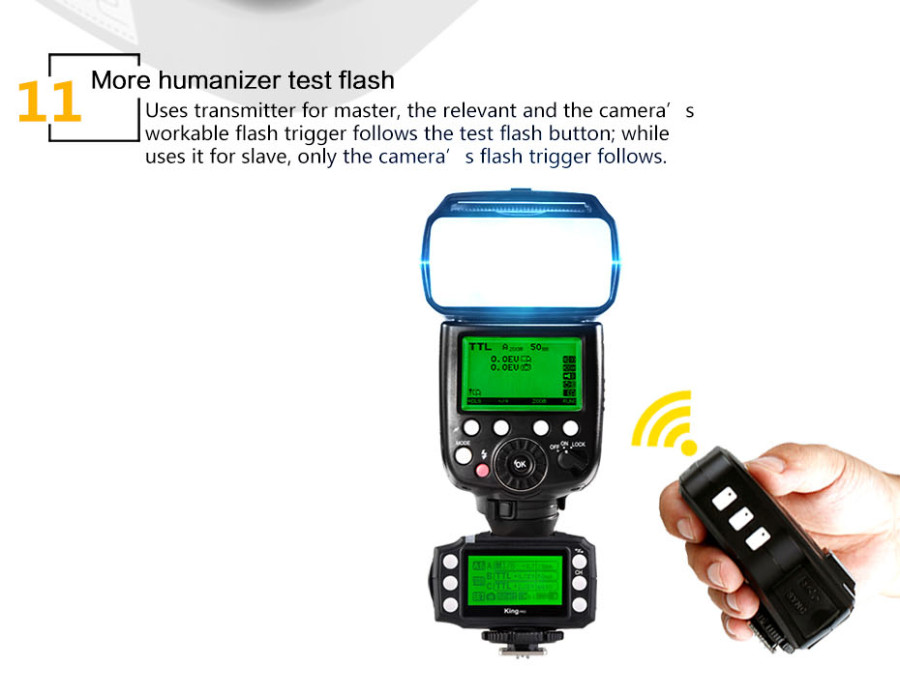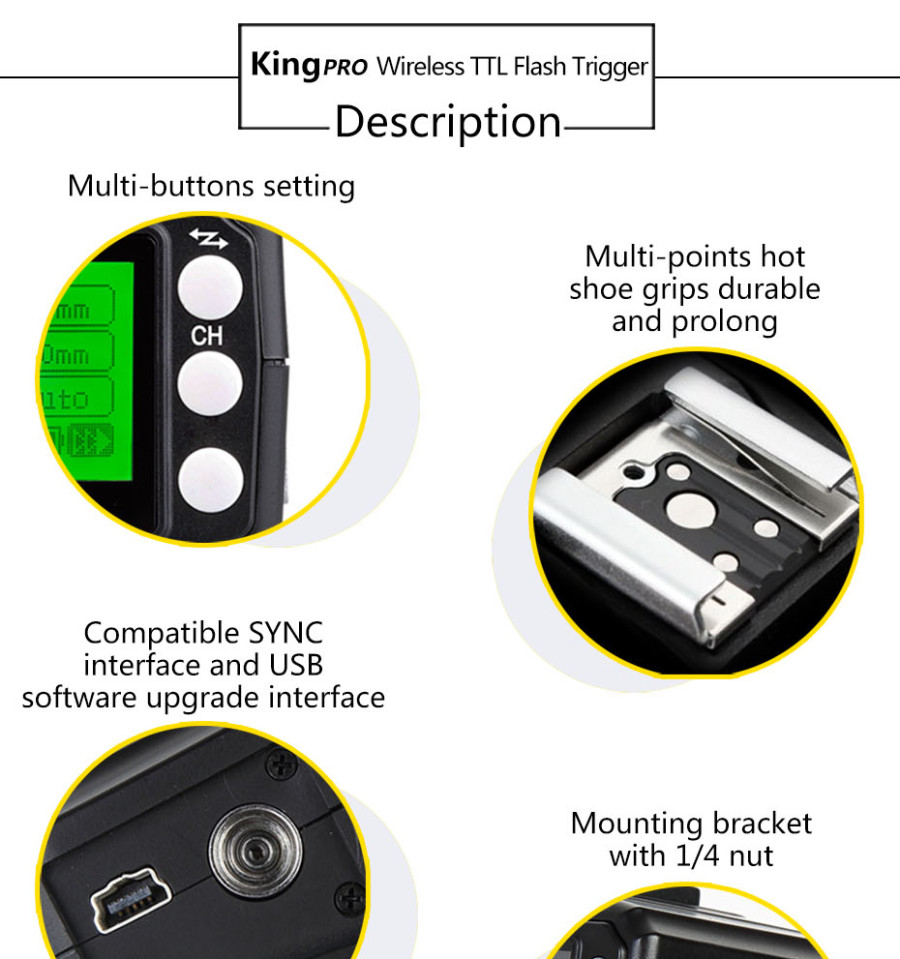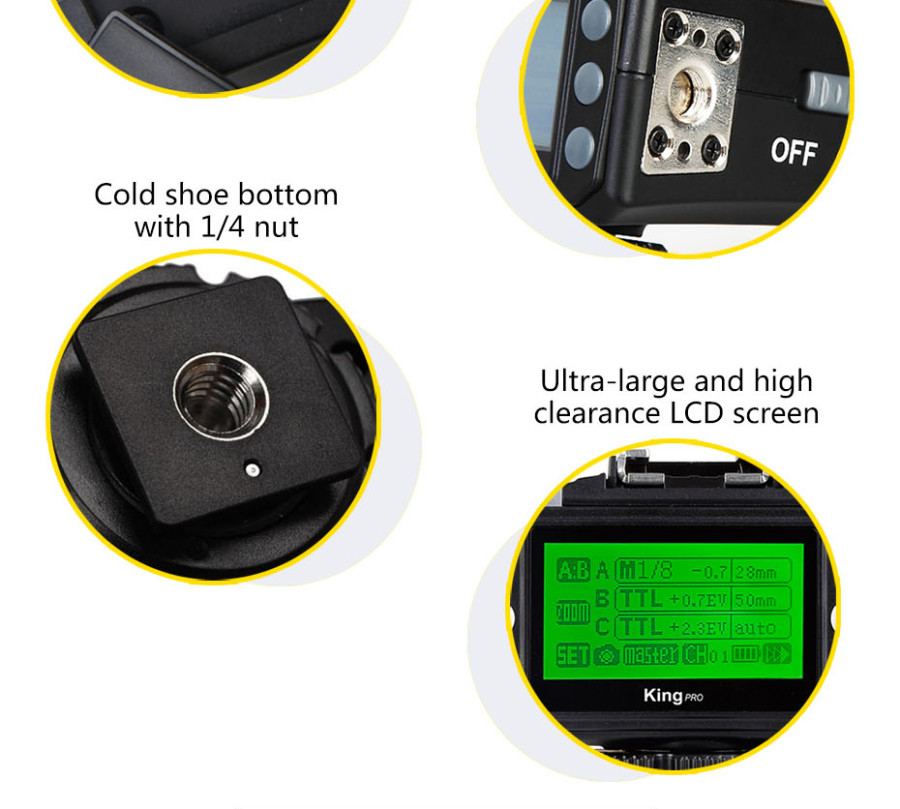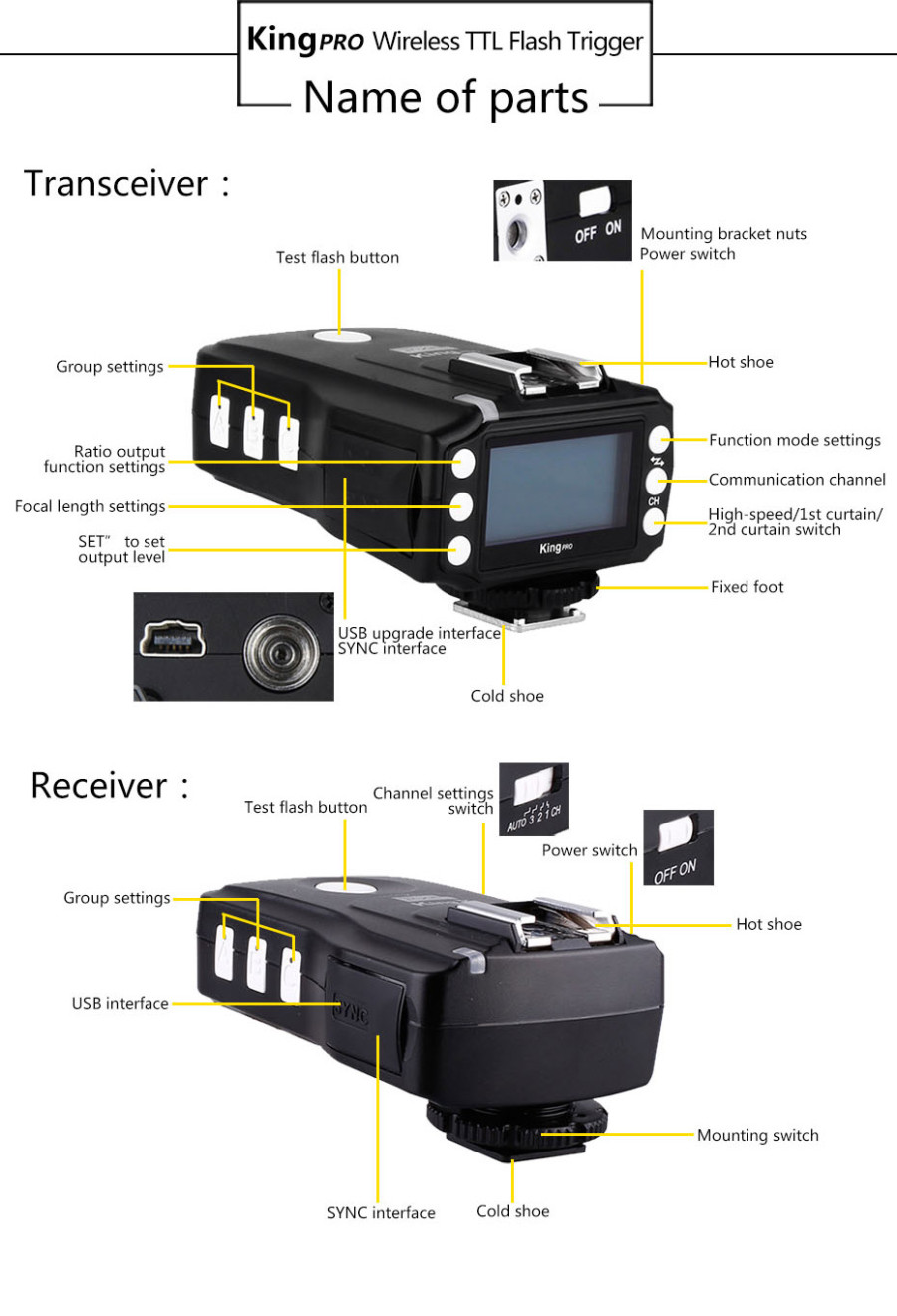 Remote Control System
System Mode:FSK 2.4GHz Wireless Remote Control System
Remote Control Distance:300M or above
Wireless Channel: 15 Fixed Channels & 1 Automatic Channel
Function:
Support the power zoom function
Support group control function
Support exposure lock
Support three flash groups output different power flash
Support ratio output function
Support front-curtain sync, rear-curtain sync, high-speed sync
Support manual setting on transceiver for group flash
Support high speed sync 1/8000S
Support one transceiver to control several receivers
Support USB function
Support test flash function
Hotshoe on transceiver support output function
Feature:
LED Display Output at a glance
Multi-keys Settings. Each feature has individual buttons, simple and easy to use
Support more operation system to upgrade device firmware online, such as Windows, Mac OSX.
More stable and reliable hardware and software for the new upgrade.
Farther remote distance, control distance of above 300m
More output mode combinations, you can always set each group to different flash output ratio.
More energy-saving design, and the use of more reliable gold-plated metal battery clip as well asanti-lost battery compartment cover design.
King Pro uses a full metal structure design, more solid, hard as stone chime; external metal mounting bracket nuts, same as the design of flash bracket.
King Pro uses 15 fixed channels & 1 automatic channel mode, allow thousand sets of products to be used in the same area without interference.
King Pro uses two colours LED backlight, more easy to distinguish Master or Slave Mode
More scalability SYNC output socket, camera can control camera shooting. Also, can control outdoor lights and studio lights.
Support group to control the focal length of the flash.
Performance:
Flash Mode :I-TTL、TTL、M
Sync Mode :1st Curtain, 2nd Curtain, Hi-speed Sync
Group Control : 3 Groups
Sync Speed : 1/8000S
Compatible Flash: Airborne Flash, Studio Lights, Outdoor Lights

Trigger Mode:
Transceiver:Input support PC
Receiver :Output support TTL, Trigger Cable Interface
Interface:
Transceiver: USB input
Receiver: USB, PC Cable Output Socket
Power Supply:
Applicable Battery:
Transceiver: AA x 2 (support 1.2V rechargeable battery)
Receiver: AA x 2 (support 1.2V rechargeable battery)
Standby Time:
Transceiver: 500 hours
Receiver: 250 hours
Continuous Work:
Transceiver: 100 hours
Receiver: 120 hours
Items Included
Transceiver * 1
Receiver * 1
Compatible Device:
Nikon D800Series, D700, D300Series, D2Series, D1Series, D200, D4, D3s. D80, D70s. D7100, 7000, D5100, D5000, D3200, D3100, D600, D90.