Godox TT685S 2.4G Wireless TTL High Speed Flash Speedlite For Sony DSLR
Godox TT685S TTL Flash Speedlite for Sony DSLR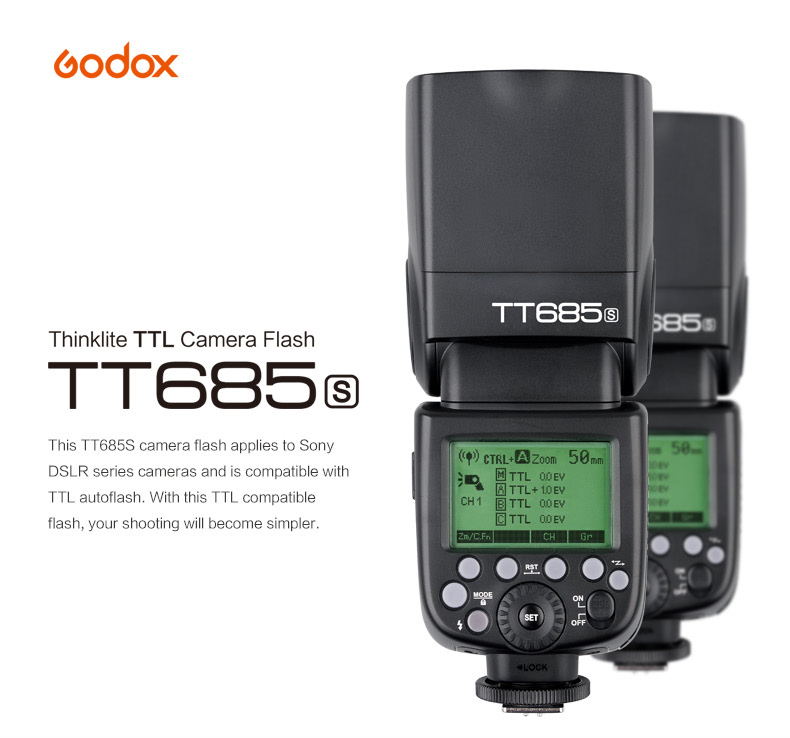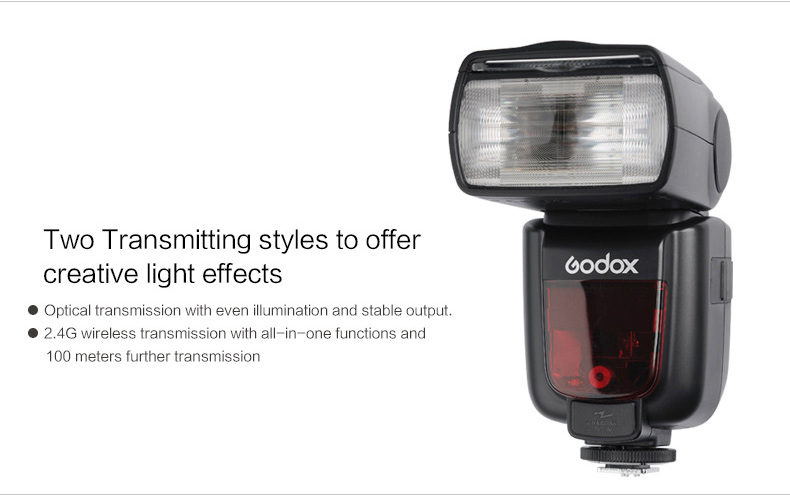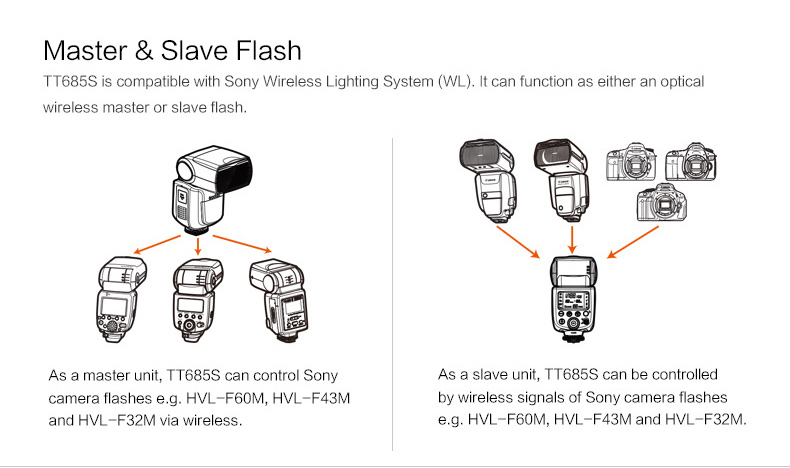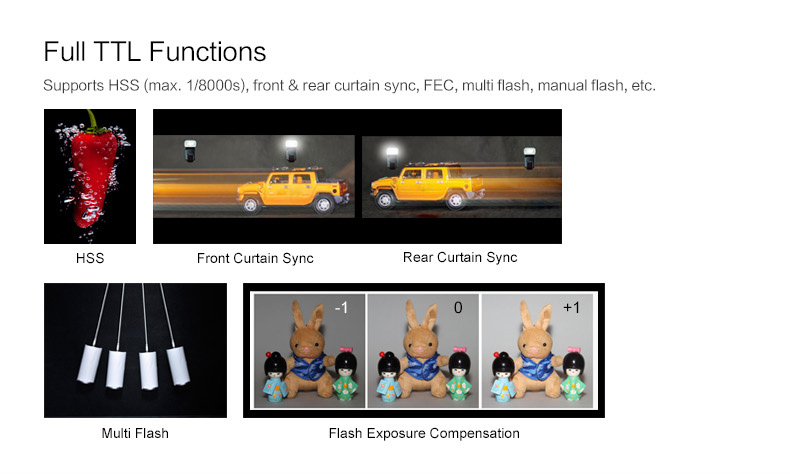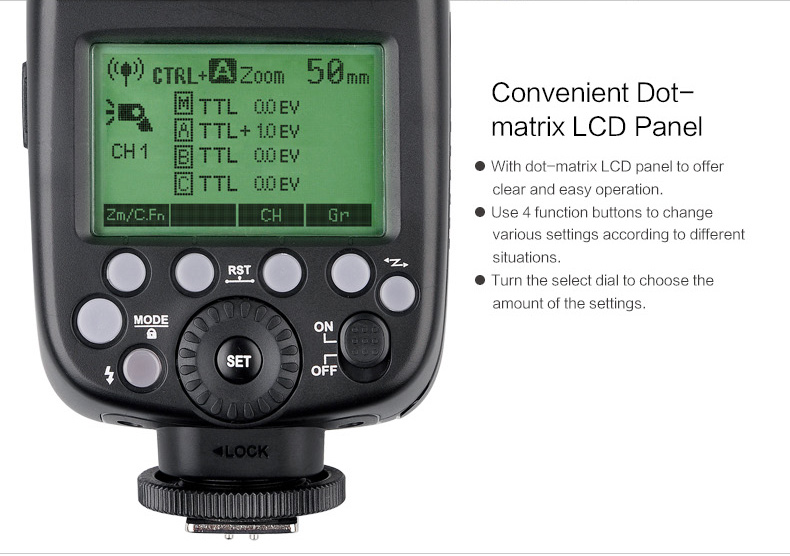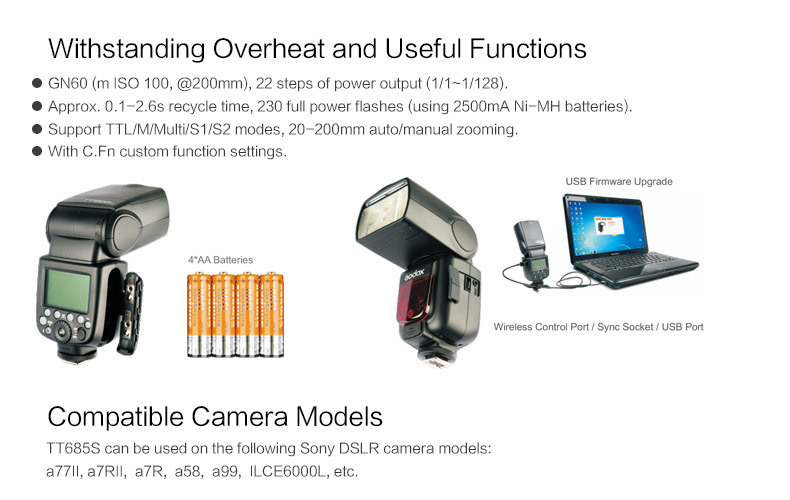 GodoxTT685S i-TTL Camera Flash Description
This TT685S camera flash applies to Sony DSLR series cameras and is compatible with TTL autoflash. With this build-in 2.4G wireless transmission and TTL compatible flash, your shooting will become simpler.
Features:
Two Transmitting Styles to Offer Creative Light Effect:
Optic transmission with even illumination and stable output
2.4G wireless transmission with all-in-one functions and 100 meters further transmission.
Full TTL Functions:
Supports HSS (max. 1/8000s), FEC, FEB, FE lock, front & rear curtain sync, modeling flash, control with camera's menu screen. Etc.
Master & Slave Flash
TT685S is compatible with Sony Wireless Lighting System (WL). It can function as either an optical wireless master or slave flash.
As a master unit, TT685S can control Sony camera flashes e.g. HVL-F60M, HVL-F43M and HVL-F32M via wireless.
As a slave unit, TT685S can be controlled by wireless signals of Sony camera flashes e.g. HVL-F60M, HVL-F43M and HVL-F32M.
Convenient Dot-matrix LCD panel:
With dot-matrix LCD panel to offer clear and easy operation.
Use 4 function buttons to change various settings according to different situations.
Turn the select dial to choose the amount of the settings.
Withstanding Overheat and Useful Functions:
GN60 (m ISO 100, @105mm), 22 steps of power output (1/1-1/128)
Approx. 0.1-2.6s recycle time, 230 full power flashes (using 2500 Ma Ni-MH batteries)
Support TTL / M /S1/ S2 modes, 20-200m auto/manual zooming.
X1C TTL Wireless Flash Trigger Offers Better User Experience:
With 2.4G wireless transmission, X1C (for Sony) can be used to trigger camera flash, studio flash and camera shutter over 100 meters' distance.
Support for i-TTL II autoflash, 1/8000 high-speed sync, flash exposure compensation, flash exposure lock, modeling flash, etc.
With wireless grouping system (max. 5 groups & 32 channels) to satisfy various shooting requirements. Big LCD panel to offer convenient operation.
Specifications:
Model:
TT685S
Compatible Cameras: (1/1 output @200mm):
Sony DSLR cameras (I-TTL autoflash)
Guide No. (1/1 output @200mm):
60(m ISO 100); 190 (feet ISO 100)
Flash Coverage:
20 to 200mm (14mm with wide panel),
Auto zoom (flash coverage set automatically to match the lens focal length and image size)
Manual zoom
Swinging / tilting flash head (bounce flash): 0° to 360° horizontally and -7° to 90° vertically
Channels:
Optic: 4 (1, 2, 3, and 4); 2.4G: 32(1-32
Slave-ready indicator:
Two ref indicators blink
Modeling flash:
Fired with camera's depth-of-field preview button
Auto Focus Assist Beam:
Effect range: Center: 0.6-10m /2.0-32.8 feet/ Periphery: 0.6-5m / 2.0-16.4 feet
Power Supply:
Ni-NH batteries (recommended) or 4*LR6 alkaline batteries
Power Saving:
Power off automatically after approx.90 seconds of idle operation.(60 minutes if set as slave)
Recycle Time:
Approx. 0.1-2.6s (eneloop Ni-NH batteries of Panasonics)
Sync Triggering Mode:
Hotshoe, 3.5mm sync line, Wireless control port
Color Temperature:
5600 ± 200K
Dimension:
64*76*190mm (W x H x D)
Weight:
410g (without battery, camera flash only)
Package Included:
1 * Godox TT685S Flash Speedlite
1 * User manual
1 * Mini stand
1 * Protection case
Dansarosa.com offer three shipping methods as below:
1. Free shipping 
Dansarosa offer free shipping to worldwide, estimated shipping time 10-19 days(dispatch to address in Latin America, Africa. East Euro may take 25-50 days)
2. Registered Mail
Registered mail will take 9-19 days (dispatch to address in Latin America, Africa. East Euro may take 25-50 days), shipment can be traced on line.
3. Express shipping
The most affordable option ships to all major destinations in 4 - 9 days (remote area may take more time and charge. All express shipping orders are eligible for shipping discounts according to package size and destination. (Note: Due to longer customs clearance times, Standard Shipping times have been extended to 15-30 days for Brazil and 10-15 days for all other destinations in Latin America.)