Meike 85mm f/2.8 Manual Focus Macro Lens For Sony Cameras

Lens structure: 8 groups 11 elements
Manual focusing Full Frame Macro Lens
Designed for Sony Emount a5100,a5200,a5300,a6500,a6000, a6100,a6300, Nex3,Nex3n,Nex5,Nex5t,Nex5r,Nex6,Nex7 Cameras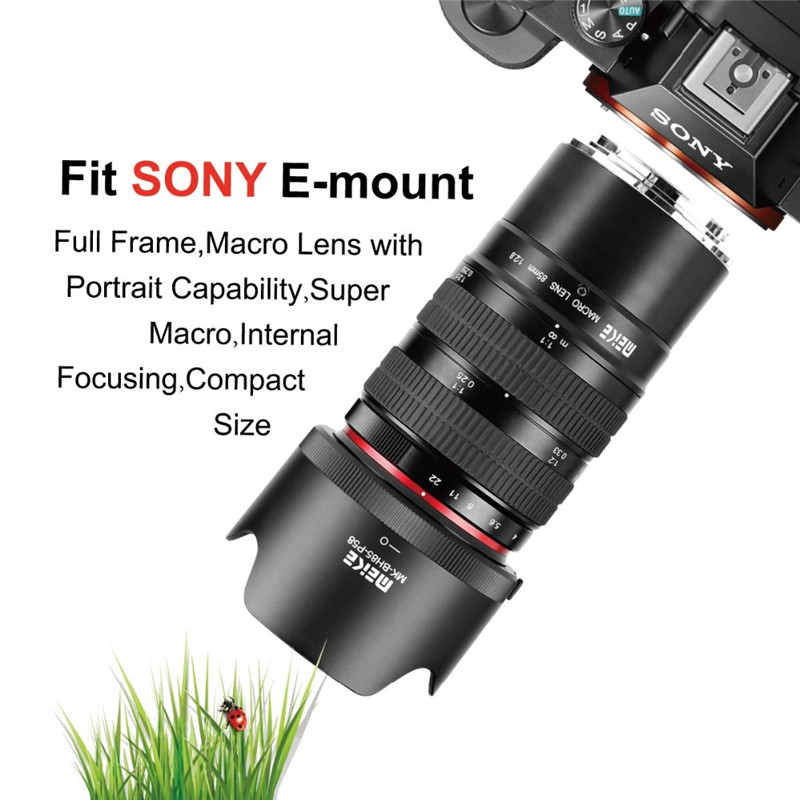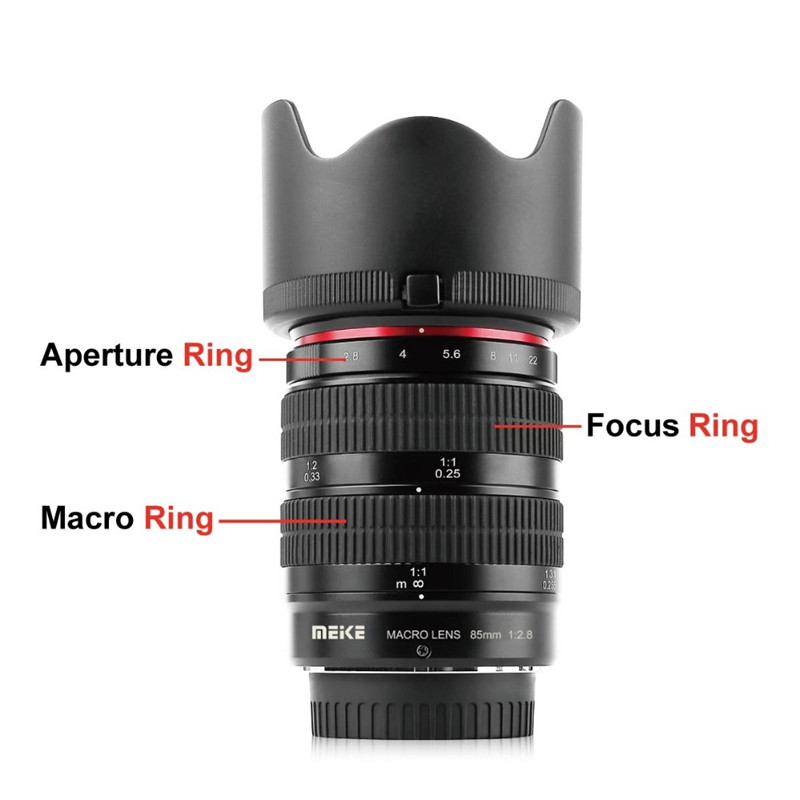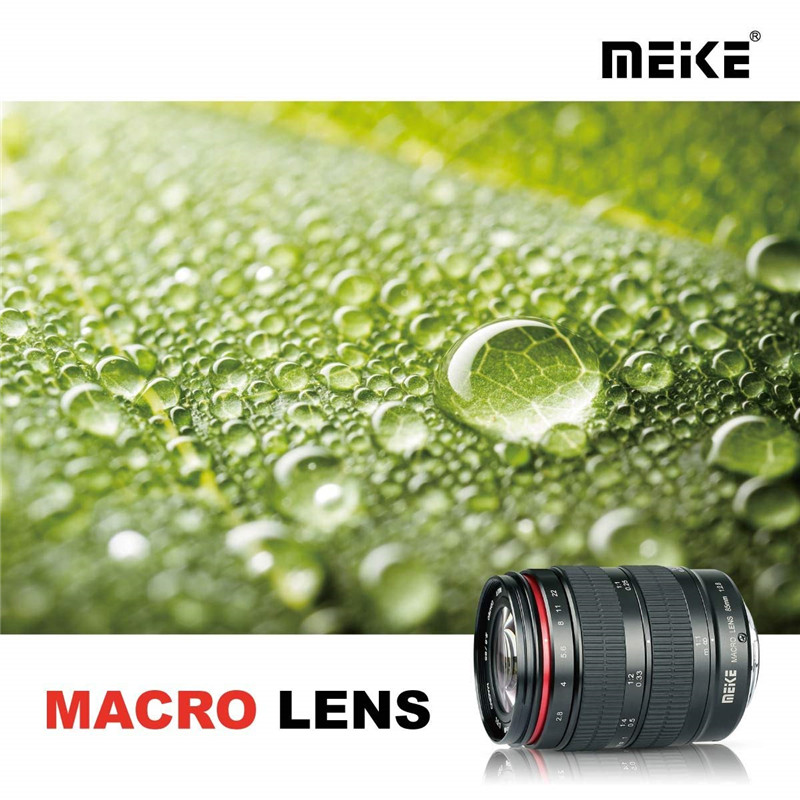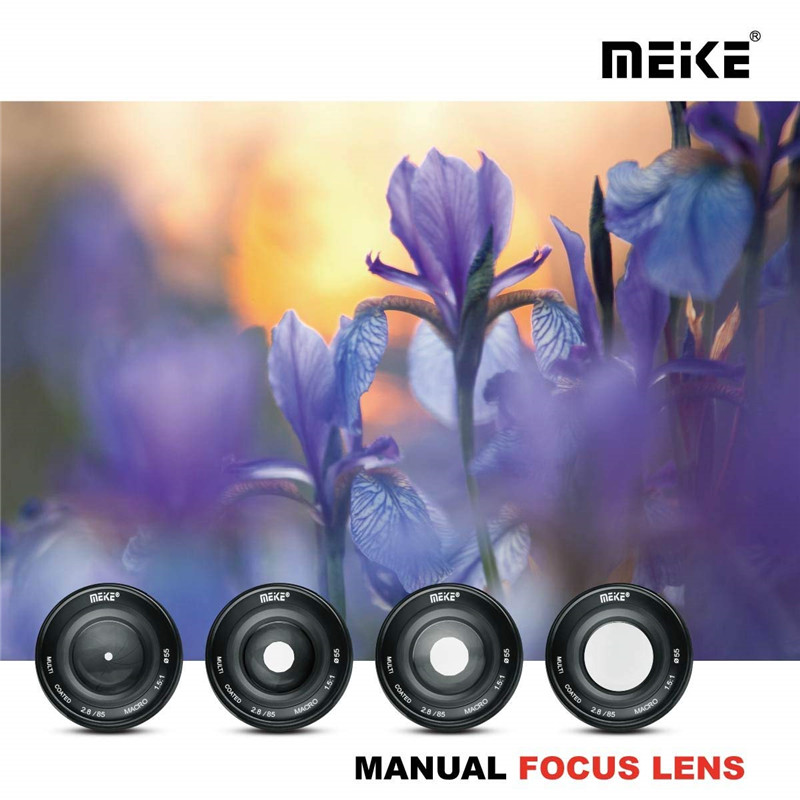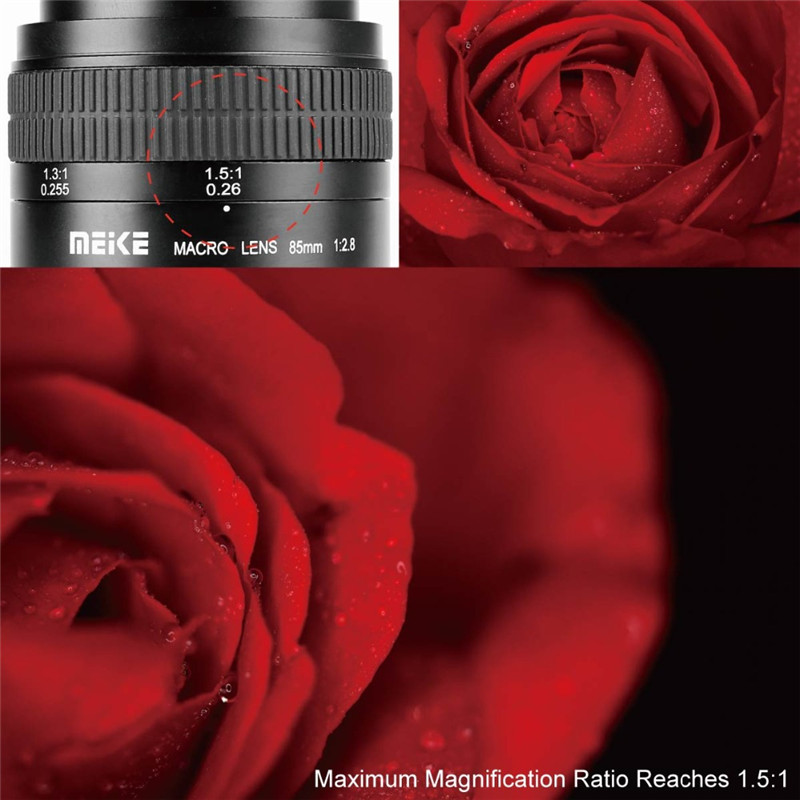 Description:
The lens built for full frame cameras, and also compatible with APS-C bodies, the equivalent focal length on APS-C bodies is around 127.5mm. Features a special designed macro ring, the maximum magnification ratio reaches 1.5:1, you don't need to get so close for macro shooting.
The lens is capable for products, portraits, and creative effects. For products ranging from watches, wedding rings, close ups of small objects, portraits and miniature effects and they're as effective for creative video shootings as they are for still images. Giving you the powerful control over the range of sharpness in an image or video.
Features:
- The 85mm lens with maximum aperture of f/2.8 provides a creamy background blur effect (bokeh)
- Specially designed Macro ring, the maximum magnification ratio reaches 1.5:1
- Solid build quality with all metallic constructure,weight around 500g
- Lens Constructure: 8 groups 11 elements, 12 Diaphragm Blades
- Features 12 diaphragm blades, provides a nice cirular aperture, which enables beautiful round blur effect.
- Features nano technology multi-layer coating, which can effectively reduce flaring, vignetting and ghosting
Note:
- This is a manual lens, please set your camera to "M", "P" or "Av" mode while using it, do not selete "TV" mode
Specifications:
Focal Length:85mm
Maximum Aperture: f/2.8
Minimun Aperture: f/22
Maximum Magnification Ratio:1.5:1
Filter Size:55mm
Angle of view:28.2°on full frame bodies, 18.9°on APS-C frame bodies
Diaphragm Blades:12
Minimun Focus Distance:0.25m
Weight:500g
Groups-Elements:8 Groups 11 Elements
Diameter:64mm
Length:91.5mm
Suitable For
Sony Emount a5100,a5200,a5300,a6500,a6000,a6100,a6300,Nex3,Nex3n,Nex5,Nex5t,Nex5r,Nex6,Nex7 Cameras
Packages Included
1*MK 85mm Lens
2*Lens Cap(front and rear)
1*Lens Hood
1*Lens Pouch
1*Lens Cleaning Cloth
1*Manual and Warranty Card