Meike MK-MT24 Macro Twin Lite Flash For Canon Nikon Sony
MK-MT24 is a combination of two MK-R200 small macro flashes and a 2.4ghz flash MK-GT620, which can flexibly control the illumination of the light in the micro-distance photography environment through the transmission of wireless signals.
Features:
* Supports High Speed Sync, Front-curtain Sync, FE lock and Rear-curtain Sync and 2.4G Wireless Transmission Flash Trigger, Nikon camera menu accessible.
* Supports flash ratio adjustment, each R200 supports 2.4G macro triggered flashing with three groups A/B/C, four channels and synchronized flash of multiple lamps with 7 levels(1/64-1/1) for the intensity adjustment for the flash control.
* The MK-MT24 lamp holder can hold up to 8 R200 with it's unique design,each R200 can be attached or freely to create desirable lighting environment for any subject at hand.
Compatible:
* Nikon D1X D2 D2H D2X D3 D3X D200 D300 D300S D700 D800 D810 D80 D90 D600 D610 D3100 D3200 D3300 D5000 D5100 D5200 D5300 2.D5500 D7000 D7100 D7200
* Canon DSLR Camera 70D / 60D / 60Da / 760D / 750D / 700D / 650D / 600D / 550D / 500D / 450D / /400D / 350D / 300D / 100D / 1200D / 1100D / 1000D / 1D X / 1Ds Mark III / 1Ds Mark II / 1Ds / 1D Mark IV / 1D Mark III / 1D Mark II N / 1DMark II / 1D / 2000D / 5D Mark III / 5DS / 5DS R / 5D Mark II / 5D / 6D / 7D Mark II / 7D / 60Da / 50D / 40D / 30D / 20D / 10D / EOS M, EOS M2, EOS M3
* Sony Alpha A7,A7R,A7S,A7II,A7RII,A5000,A5100,A6000,A6300,A6500 Mirrorless Cameras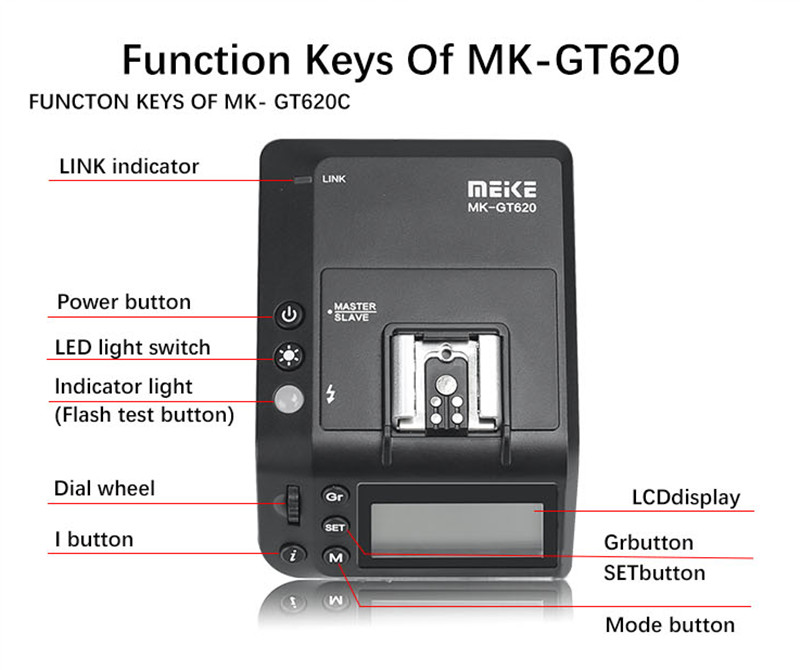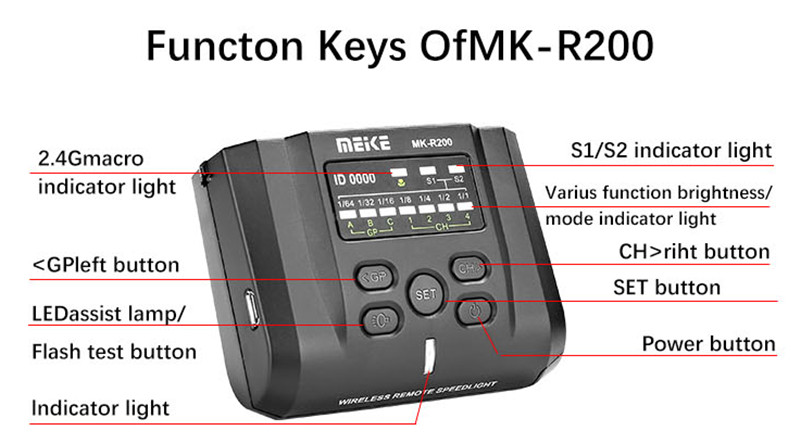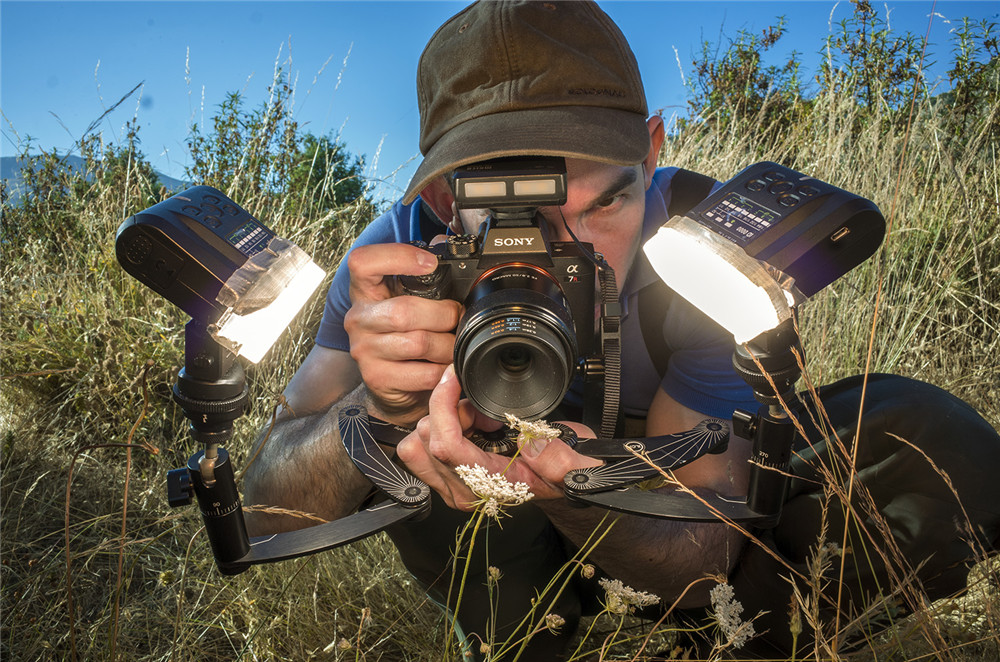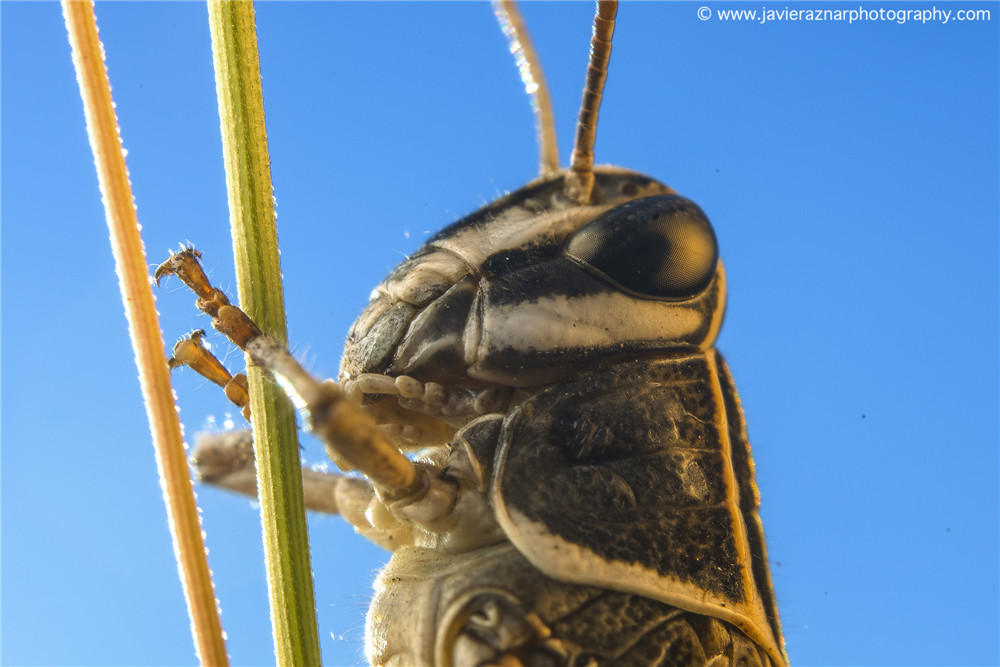 Specification:
* Guide number:10(ISO 100.m), 14(ISO 200.m
* LED light: 0.5W, 5500K±200, Ra 90
* Group and Channel: Group A/B/C and channels 1/2/3/4
* ID: Default as 0000
* S1/S2 transmission: indoor>20m outdoor>10m
* 2.4G wireless distance: Remain stable within 15m in any angle, distance of alignment and actual measurement is>100m in an open environment
* Cover angle: cover light of 24mm lens
* Recycle time: 4s 1/1 output (2.4-2.8V)
* Battery: 2xAAANI-MH(for R200): 2xAANI-MH(for GT620) battery
* Weight: About 105g
* Size(L*W*H): 80*60*75mm
* Operating temperature:-10~50 ℃
* Storage temperature: -20~70 ℃
Package Include:
1 x MK-GT620 trigger
2 x MK-R200 flash
2 x MK-R200 soft flash diffuser
2 x Hot shoe MK-AS-R200A
2 x Lamp holder MK-AS-R200B
2 x including diffuser MK-SZ
1 x Hot shoe
1 x Annular Lamp holder
1 xMK-MT24 storage pocket
6 x Lens adapter ring set( 52mm,55mm, 62mm, 67mm, 72mm, 77mm )
18 x Color filter MK-SB-R200
Dansarosa.com offer three shipping methods as below:
1. Free shipping 
Dansarosa offer free shipping to worldwide, estimated shipping time 10-19 days(dispatch to address in Latin America, Africa. East Euro may take 25-50 days)
2. Registered Mail
Registered mail will take 9-19 days (dispatch to address in Latin America, Africa. East Euro may take 25-50 days), shipment can be traced on line.
3. Express shipping
The most affordable option ships to all major destinations in 4 - 9 days (remote area may take more time and charge. All express shipping orders are eligible for shipping discounts according to package size and destination. (Note: Due to longer customs clearance times, Standard Shipping times have been extended to 15-30 days for Brazil and 10-15 days for all other destinations in Latin America.)