Pixel Pawn TF-364 set 2.4GHz Wireless Flash Trigger Remote Shutter for Olympus Panasonic
Pixel Pawn TF-364 set 2.4GHz Wireless Flash Trigger Remote Shutter for Olympus Panasonic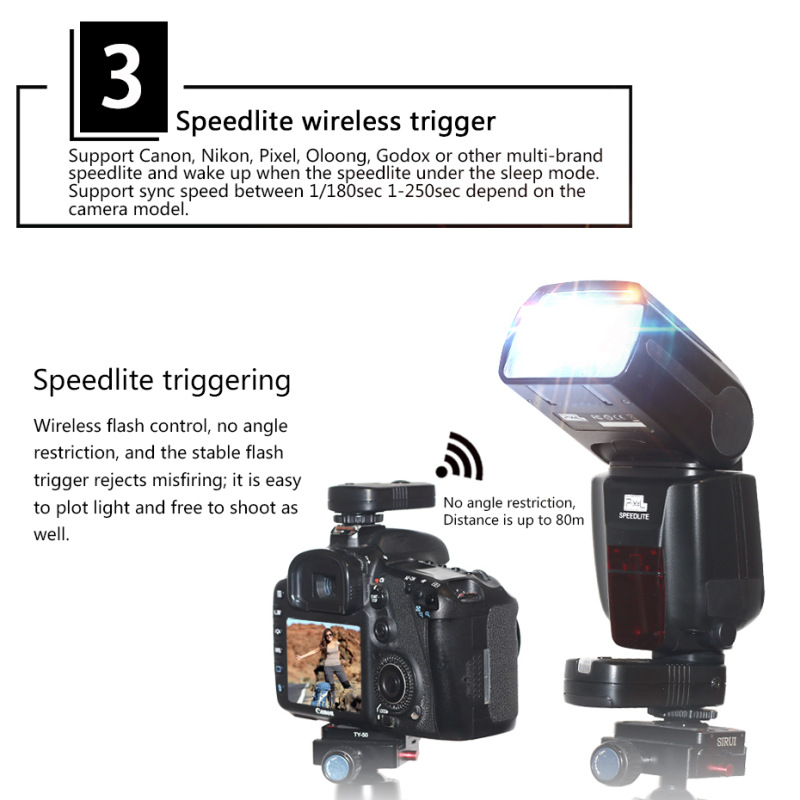 Features:
Pawn For Olympus And Panasonic is a wireless Flashgun remote control for Olympus, Panasonic Camera.
Pawn For Olympus And Panasonic is multi-function wireless shutter remote control, and flash trigger function.
FSK modulation used to improve the reliability and stability of the product, use the free worldwide 2.4GHz frequency.
Available to shoot with single, Bulb, continuous, delay mode.
With "wake-up" function, which can wake up the flash under sleep mode; guarantee to shoot each picture.
Changeable connecting cable for difference camera model.
With saving power function, the transmitter is only use 3mA under working status. Receiver is only use 2mA under working status. Battery working hour is up to 400hrs when using 2pcs of AAA alkaline battery. More than 10X compare with the similar product.
Low-voltage design, and available to use rechargeable battery.
Multi-power design, which can be use this via power socket.
Shutter speed up to 1/250S. (Depend the camera model, some camera are only support 1/250S or lower)
Specification:
Applicable To: Olympus,Panasonic
Type: FSK 2.4GHz Wireless System
Operation Range: 80M
Channel: 16
Transmit Power: -1dB
Sensitivity: -97dB
Cable length: 30CM
Transmitter Stand-by Time: 25000 Hours (CR-2 lithium-ion battery)
Receiver Stand-by Time: 400 Hours (2pcs AAA alkaline battery)
Transmitter Measurement (L * W * H) : 66 X 37.5 X 28.5 MM
Receiver Measurement (L * W * H) : 80 X 37.5 X 30 MM
Connecting plug for camera mode:
Package contents:
Transmitter: 1set
Receiver : 1set
AAA Battery : 2pcs
CR-2032 Battery : 1pcs
Shutter cable : 3pcs
Flash cable :1pcs
Manual :1pcs