Portable Retekess TR110 SSB Shortwave Radio Full Band FM/MW/SW/LSB/AIR/CB/VHF/UHF Shortwave Airband CB
Portable full band radio: MW; FM; SW; CB; UBD.
LCD display: world band radio displays squelch state.
Keypad lock and mute function: short press lock button enter the mute mode.
Store 1000 radio stations: store or delete stations at any time.
Sleep timer function: long press power button of portable shortwave radio.
External antenna input; in addition to telescopic antenna and built-in ferrite rod antenna
Order 10+ enjoy fast free shipping 6-9 days
Buy 10 for

$96.00

each
Buy 50 for

$95.50

each
Buy 100 for

$94.80

each
Buy 200 for

$94.20

each
Description
Full Band Radio (Model: TR110). It is an entry-level toy product for radio enthusiasts and an auxiliary product for off-road activity enthusiasts (VHF/UHF radio reception). It can provide flight information for frequent flyers. Shortwave SSB can bring you a different experience.
Feature:
TR110 is a fullband radio receiver: FM, MW, SW, CB, AIR, VHF, UHF, WX, an entry-level product for radio enthusiasts and an auxiliary product for off-road activity enthusiasts (VHF/UHF radio reception), providing flight information for the frequent flyer. And shortwave SSB(USB LSB) brings you a different experience.
The radio is of rich functions, WB, ATT, 0-9level SQ, de-emphasis, step adjustable, meeting various requirements.AM FM frequency range can be set according to the current country, available to be used around the world.
The weather alert function works better for outdoor use, like going for a picnic, camping or yachting. NOAA forecast: The radio receives 7hazards weather channels in WX band and monitors the current weather. The reception number of weather channels vary according to the current area. When theweather exchanges, the alarm will alert you and you will have enough time to prepare for the emergency.
The radio adopts the DSP digital demodulation technology, and that improves the receiving sensitivity, selectivity and anti-mirror interference ability, and ensures sensitive and stable signal reception.
The three ways of stations searching offer convenience for station scanning. After automatically scanning and storing available stations, and manually search your preferred broadcasting programs from the pre-stored stations. The radio can store up to 1000 stations. Note:ATS:Automatic search storage station;VM: manual search pre-stored station;VF: manual search for radio station.
High-quality sound makes the listening experience more enjoyable and pleasant.Insert the earphones, listen to your preferred stations and enjoy your personal time. Here comes a pair of free in-ear headphones.
Plenty of information shows on the LCD display and it is easy to identify the current state.The cloak, alarm clock and sleep timer are available to be set.It is straightforward to notice the current time, and set alarms for any purpose where accurate time is needed. Besides, with the set sleep timer, you could fall asleep with the tranquil musicslowly running and don't bother to power it off.
The type-Ccharging portis easy toplug in.The built-in 1000mAh BL5C lithium battery can be fully charged in about 3-4 hours and lasts for about 7-8 hours.And the battery is replaceable.The actual lasting time depends on the working frequency.
With the 3.5mm jack, the signal receptivity can be strengthened by connecting with an external antenna (not included).Connect to an external antenna to enhance the reception of shortwave radio stations.
The LEDbacklight makes information show clear and easy to notice, especially in dim surroundings.
The radio is mini-sized and light and easy to store in your pocket.In addition, the hand strap and back clip make it more convenient to be carried around.
At home, lie on the sofa and drink coffee with your favorite broadcasting program playing, relaxing andleisurely.Bring the radio with you when going camping, themusic ambience and also you can switch to WB to monitor the weather.For off-road groups, it is an auxiliary product of its VHF/UHF radio reception.For frequent flyer, listening to the air band makes your journey more pleasant.
Specification: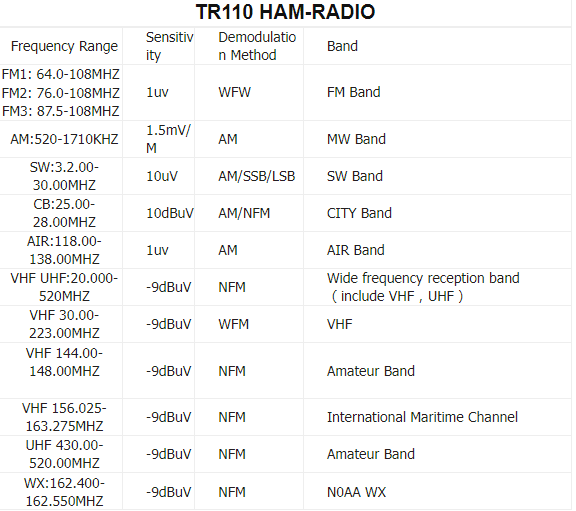 2. Battery: BL-5c 1000mAh
3. HEADPHONE OUTPUT: 3.5MMstereo output
4. Speaker: Ф40MM 8Ω
5. Product dimensions:111X60X20MM
6. Antenna:
a) FM/SW/AIR/CB/VHF(UHF)/UBD/WX: Telescopic antenna
b) AM: Built-in ferrite rod antenna
Package Includes
1 * Retekess TR110 radio
1 * In-ear headset
1 * BL5C lithium battery 1000mAh
1 * USB type-C cable
1 * User manual
1 * Strap
1 * Storage bag
Wholesale Tips:
Order 10+ this portable radios, we will ship to you by DHL, Fedex, UPS by free and processing time within 1-3 business days.