Vertical Stand with Cooling Fan Dual Controller Charger Charging Station For SONY Playstation 4
This PS4 console dual charging station with two charger ports simultaneously charges your PS4 controller, saving you time! The vertical bracket fan cooler allows your PS4/PS4 pro/PS4 slim to be effectively cooled. One HUB and one USB port are designed with powerful charging outputs for great performance improvements

Start 10+, enjoy free express shipping 4-9 days
Buy 50 for

$21.30

each
Buy 100 for

$20.85

each
Buy 200 for

$20.20

each
Support For Playstation 4
This cooling can support PS4/PS4 SLIM/PS4 PRO console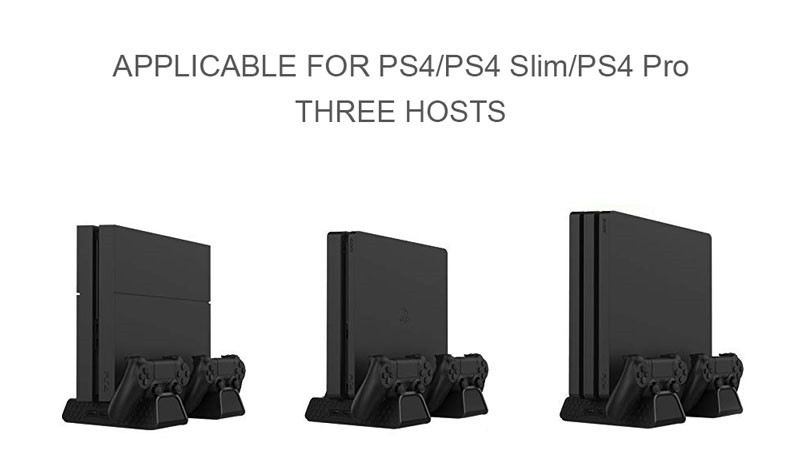 Features:
Space-saving design: Usually the game console is too large and some accessories take up too much space. But with this vertical stand, your PS4/PS4 pro/PS4 Slim mainframe and handle can be placed on the stand, saving you a lot of space while cooling the ps4 space.
Built-in fan: 3 built-in fans are designed to allow your game console to be effectively cooled and calmed. Since then, you don't have to worry about playing the game for too long and causing the mainframe to overheat and burn your desk.
Our universal PS4 console dual charging station with two charger ports simultaneously charges your PS4 controller, saving you time! The vertical bracket fan cooler allows your PS4/PS4 pro/PS4 slim to be effectively cooled. One HUB and one USB port are designed with powerful charging outputs for great performance improvements.
Whisper Quiet Cooling Fans
PS4 Vertical Stand with Cooling Fan comes with 3 built-in fans. Provides a steady flow of cool air and effectively maintains your PS4 console from overheating and prolonging its lifetime.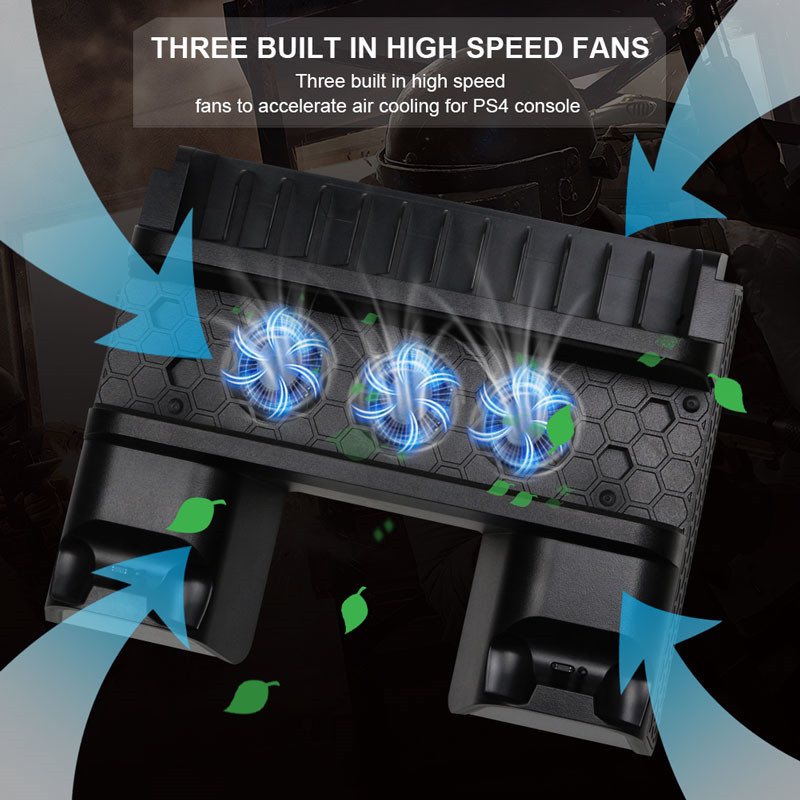 Dual Controllers Charging Station
Two fitted slots for storing and charging your controllers. Put your controller into the stand after a playing session and it will be charged for your next gaming session.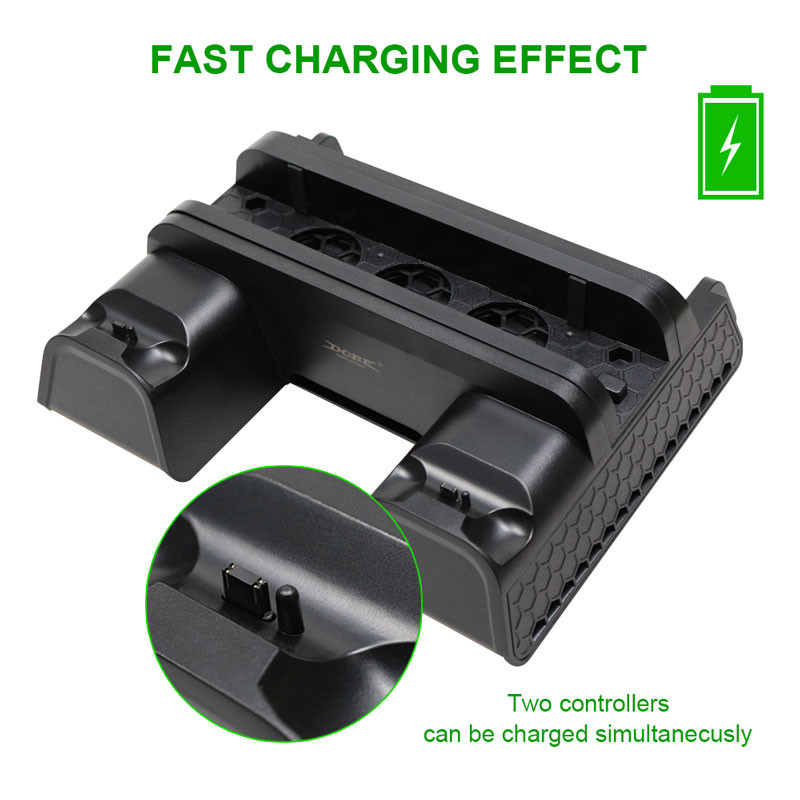 Protect Your PS4 & Easy To Use
The anti-slip EVA on both sides to avoid scratching and slipping of PS4 console; 8 bonus thumb grip cover cap for better protection to your controller. Easily set up. Just place your PS4 in the stand and connect the built-in cable.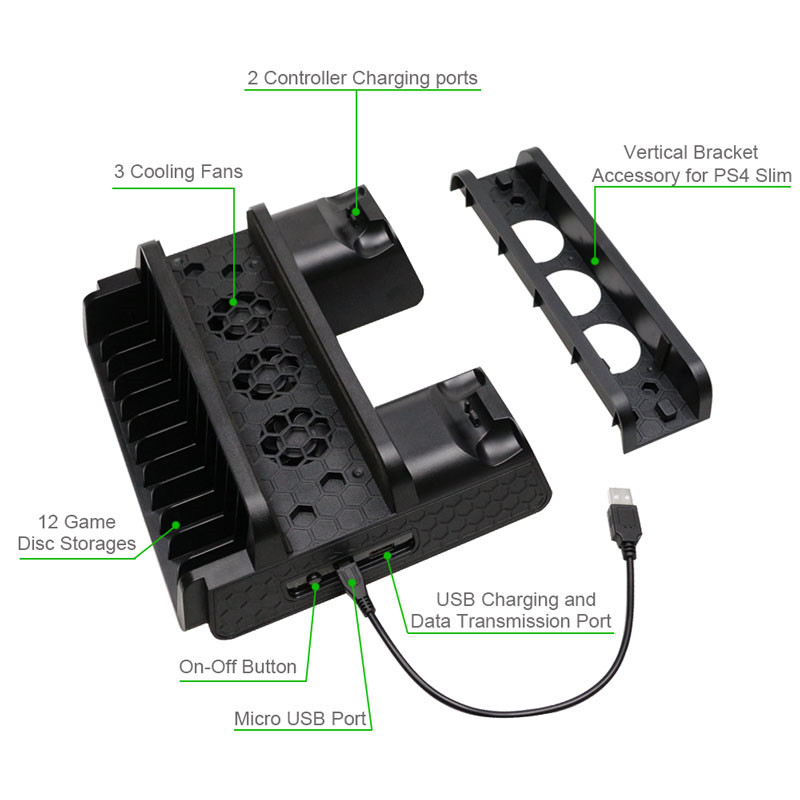 Convenient Usb Hub and Game Storage Slots
1 Micro-USB port and 1 USB pot. You can transmit data or charge any devices. The stand features up to 12 slots to hold the game cases and keep your favorite games within reach.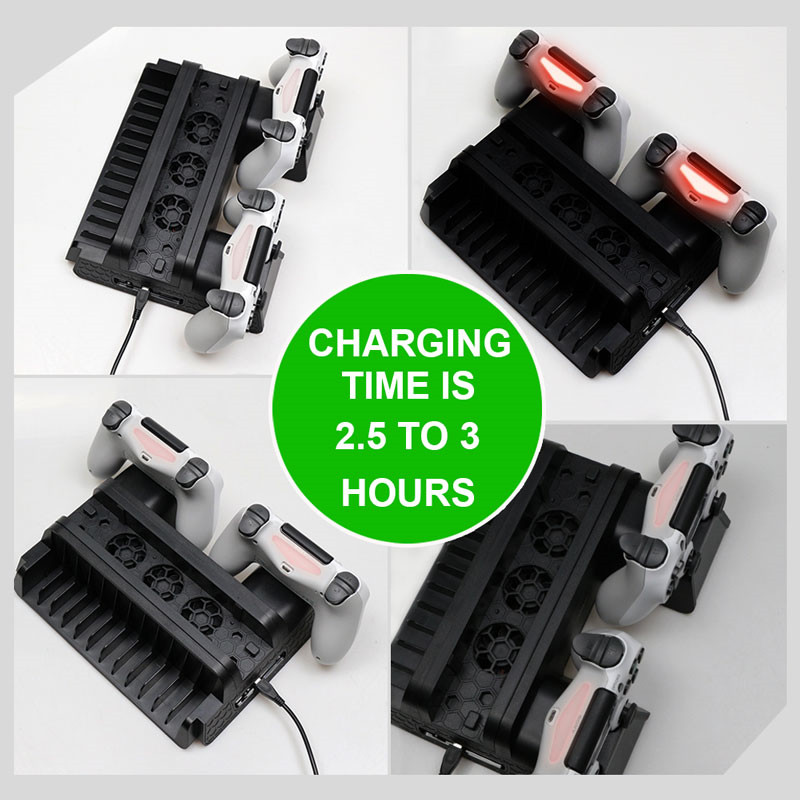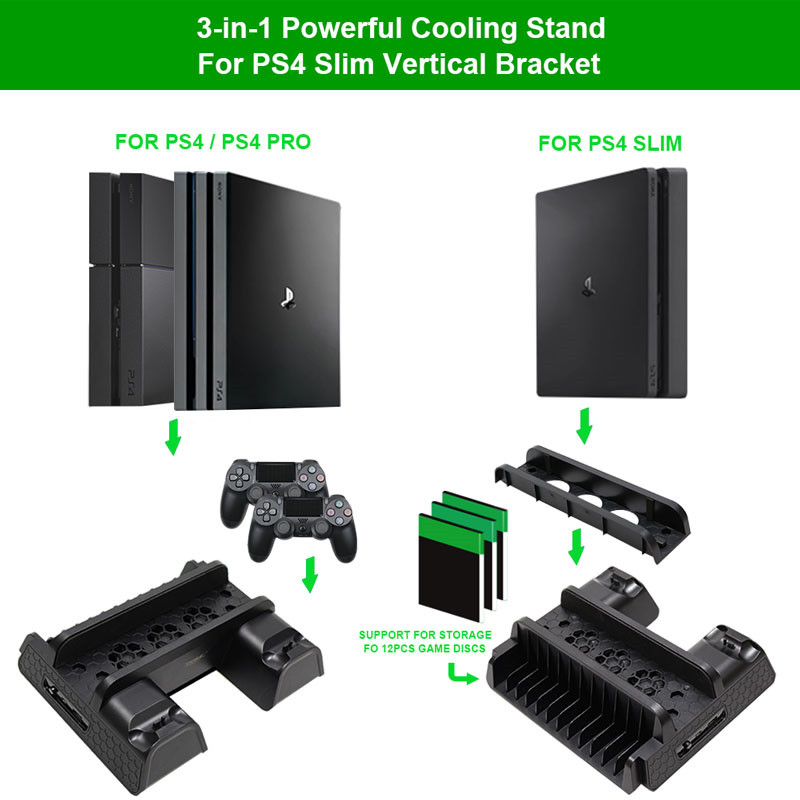 Product Steps
1.When charging radiator insert mirco charge wire
2.Press the fan switch button to start cooling.
3.Charger two PS4 controllers according to handle width.
4.Non slip EVA on both sides to avoid scratches and slides.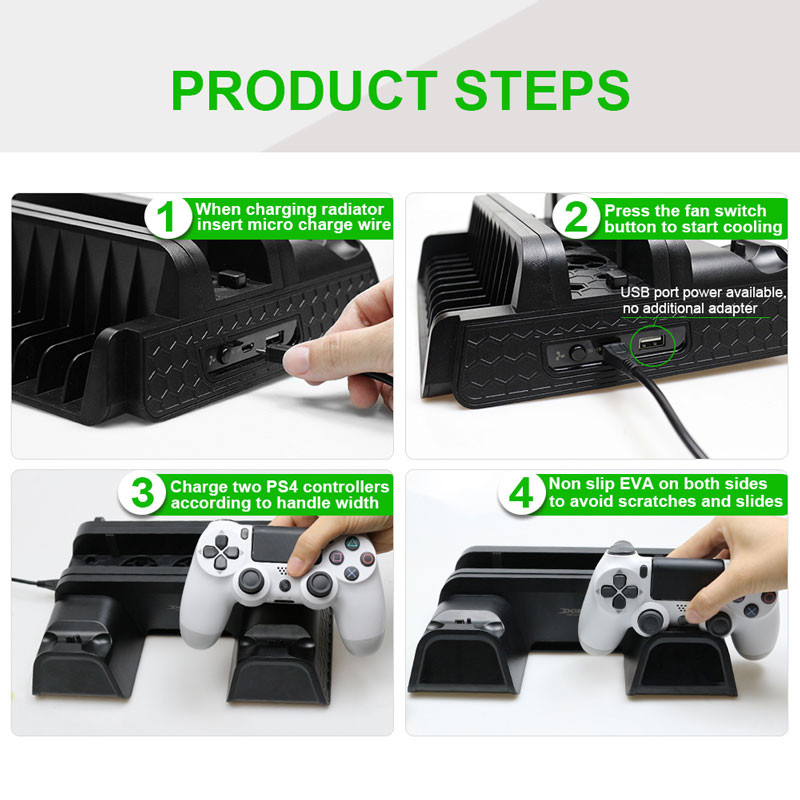 Dimensions: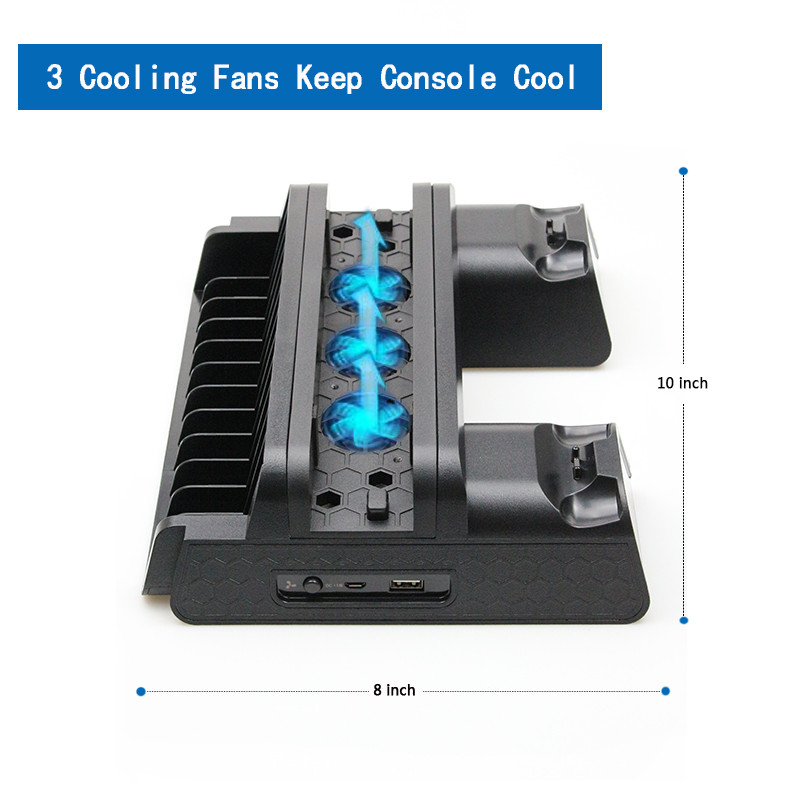 Specification:
Mode: TP4-882
Material: ABS
Color: Black
Input voltage: DC 5V
Output current: 500mA
Supply Power: USB 5V(connect the included USB cable with the console)
Current: The max current for individual controller is up to 800mA when controller is charging, the average current is 400mA when two controllers are charging(no fan is working)
Max Fan Speed: 5000±10%PRM
Max Air Output: 12.6 CFM
Charge Time:2.5 to 3 hours (2 controllers charging simultaneously)
Product Size:9.8 x 8.07 x 2.7 inches/250 x 205 x 68 mm
Package Include:
1 * PS4 Series Vertical Stand With cooling stand
1 * Charging Cable
1 * User Manual
Wholesale Tips
Order 10+ this PS4 cooling stand, we will ship to you by DHL, Fedex, UPS, EMS by free and Processing time within 1-3 business days.