Meike 25mm f/1.8 Large Aperture Wide Angle Lens Manual Focus Lens for Sony Mirrorless Emount Cameras

Aperture Range: F/1.8-16
Filter diameter: 25mm
Suitable for Sony NEX3, NEX3N, NEX5, NEX5T, NEX5R, NEX6, NEX7, A5000, A5100, A6000, A6100, A6300,A6500 ... etc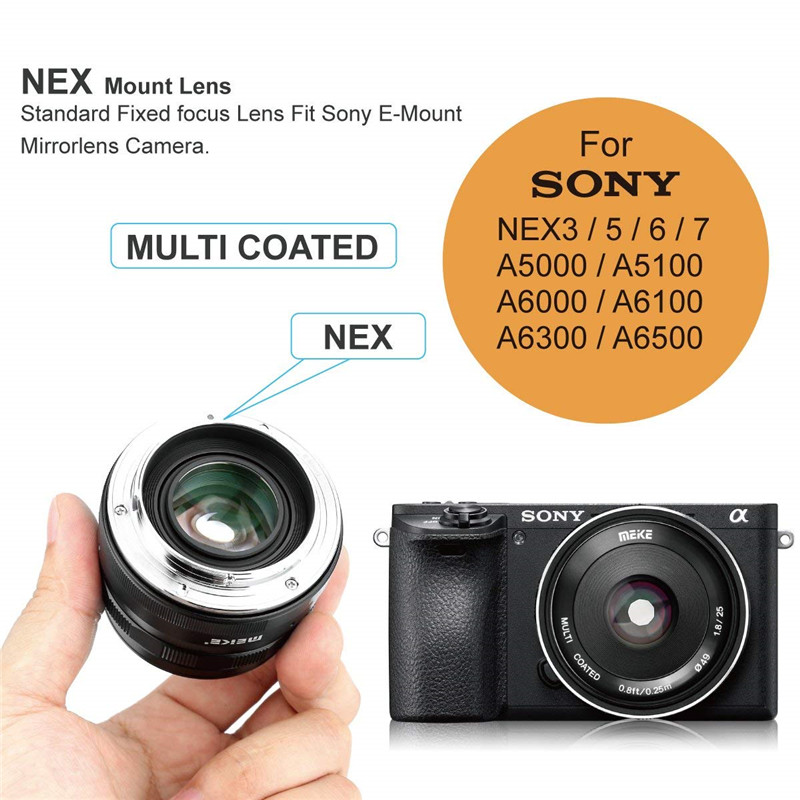 Description:
Meike MK 25mm f/1.8-16 fixed Wide Angle Lens for Fujifilm Cameras with APS-C With its large aperture opening up to F1.8-16, it has a high light intensity and allows precise recording even in poor light conditions. The lens is multi-layered, its body made of metal is high-quality processed and can be adjusted comfortably and easily. It is Wide Angle Lens suitable for landscape both product and portrait photography.
Features:
- 7 Elements in 5 Groups. Ideal Aperture with 9 Diaphragm Blades Brushed Metal Body and Metal Bayonet, Excellent Texture, Effectively Prevents the Entry of Dust and Water.
- F1.8 - F16 Aperture Range, A Manual Focu Wide Angle Photographic Lens Designed for Sony E-Mount APS Frame Cameras.
- Multi-Layer Nano Optical Coating Increases Light Transmission and Reduces Internal Reflections Such as Flaring and Ghosting
- Durable, Compact and Lightweight 0.41lb/190g. Angle of View: Diagonal 61 degree Horizontal 50 degree Vertical 35 degree. Filter Size: Φ49
Specifications:
Focal Length:25mm
Maximum Aperture: f/1.8
Minimun Aperture: f/16
Filter Size:49mm
APS-C Visual angle:diagonal 61° horizontal 50° vertical 35°
Lens construction is 7 elements in 5 groups, multi-layer coatings
Minimun Focus Distance:0.25m
Diameter:60.5mm
Length:40.9mm
Packing size: 93*77*92mm
Package Weight:300g,Product Weight:190
Suitable For Sony E-mount Cameras with APS-C
For: Sony NEX3, NEX3N, NEX5, NEX5T, NEX5R, NEX6, NEX7, A5000, A5100, A6000, A6100, A6300,A6500 ... etc
Packages Included
1 * MK 25mm F1.8 Lens
1 * Front Lens Cap
1 * Rear Lens Cap
1 * Lens Pouch
1 * Lens Cloth
1 * Pergear Cleaning Kit